Fashion retailer New Look has joined multichannel leaders John Lewis and Amazon in the latest eRetail Benchmark study from eDigitalResearch, the leading Voice of Customer provider.
New Look topped the Benchmark league table with its seamless digital customer experience across all multichannel touch points – including mobile, websites and apps. Their homepage branding is consistent across all channels with strong, image based navigational links making the user experience fluid and reliable.
Homepage
A good homepage is important to make sure users stay on the site, as first impressions are key. With the increasing use of mobile and tablet technology retailers have had to work hard on adapting their digital interface for all channels, ensuring users have an excellent end-to-end journey.
"I really like the layout of the homepage, it is bright and colourful and makes me feel excited to get shopping. The tabs at the top of the page make it really obvious where to go for everything and there is absolutely nothing that I dislike about it so far"
New Look's homepage is vibrant and visual with lots of image based navigational links, allowing users to explore product ranges and offers from the homepage. With clear top navigation and search facility users can quickly browse the entire range.
New Look scored highly due to consistent branding, alongside fast and simple functions.
Navigation
Navigation is vital to encourage users to explore your site more, it is essential that retailers fully optimise their navigation for all touch points. Clear and functional navigation bars and buttons entice customers to stay on your site longer – increasing their chances of completing the customer journey.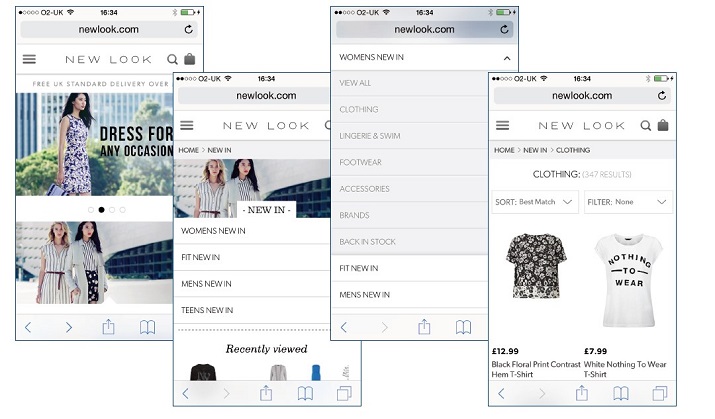 New Look mobile navigation
Keyword Search
New Look's keyword search facility is like-for-like visually across all channels, offering fast and accurate results. In particular the search facility on the mobile site is adaptive, with the search bar only becoming visible when clicked on, thus not taking up space on the limited screen. Across the channels New Look scored higher on mobile, the keyword search picks up on typos which are common on smaller devices and offers suggestions along with predictive text, these small details are all appreciated with shoppers on the go.
"I like the keyword search. It was easy to find and also very easy to use – it provided swift and accurate results, even when I spelt something incorrectly, it was able to suggest and find what I had originally intended"
Ensuring accurate keyword search and clear navigation across all channels is integral to the multichannel offering. Compared to other retailers featured in the Benchmark, New Look's search facility was faster and more importantly fully functional – many competitors failed to show accurate results – if any at all.
Product Pages
New Look's product pages provide a clear item description alongside multiple image options.  They influence users to purchase with their scrolling image choices featuring zoom. Users can choose colour, size and quantity with a clear call to action at the bottom of the page. Delivery and return information also features on the product pages, ensuring users do not have to leave the page for this crucial information.
Shopping Basket
The shopping basket is the penultimate leg of the journey for shoppers, therefore retailers need to ensure they make this a seamless experience to encourage consumers to proceed with their purchase. New Look score well with their mixture of clear images and descriptions, ability to add or delete products, clear delivery and pricing information plus the functionality to save the basket for the future (Wish List).
New Look utilise the shopping basket platform well by communicating delivery information – such as delays in some areas – this can be particularly helpful in busy periods such as Christmas.
If retailers want their brand stand out from the competition, they need to ensure all the basics of the digital customer journey are being fulfilled. If retailers are unable to replicate the same level of service across all platforms the brand experience falls apart. To find out more on the digital customer journey in 2015 and how other retailers performed you can download the full eRetail Benchmark here.